Tour A: Sydney to Melbourne via Canberra SM1 (3 days/2 nights)
Route: Via Canberra, Avalanche Homestead, the Snowy Mountains, Mountain Lodge, Phillip Island.
Day 1: Sydney to Avalanche Homestead via Canberra. (L,D)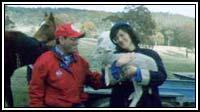 You are collected from your city hotel at 8.00 a.m. in your luxury 4WD vehicle. You travel south through Sydney to the beautiful Illawarra coast and on to the port city of Wollongong. Turning inland, your drive takes you through the rolling hills and rich grazing country of the Southern Tablelands to Canberra, Australia's national capital. Canberra was designed in the early 1900s by Chicago architect Walter Burly Griffin and today retains much of the unique layout he created.
After lunch, a tour of Canberra includes visits to the world renowned Australian War Memorial, the architecturally striking national Parliament House, the internationally acclaimed Australian National Gallery and a tour of foreign embassies, many of which are designed in the traditional architecture of their home countries.
A 45 km drive south brings you to Avalanche Homestead where you stay overnight. Avalanche Homestead has been designed especially to enable visitors to experience life on a working Australian sheep and cattle property. Set high in the ranges, Avalanche Homestead offers VIP accommodation and dining. At dusk a 4WD safari takes you spotlighting deep in the Australian bush where you will see some unique Australian animals and birds in their native habitat, including kangaroos and owls. On your return to Avalanche Homestead join your hosts for a convivial candlelight dinner with quality Australian wines.
Day 2: Avalanche Homestead via mountain National Parks and Buchan Caves to Mountain Lodge. (B,L,D)
Your personal tour operator takes you by 4WD luxury vehicle to Cooma, gateway to the Snowy Mountain Hydroelectric Scheme, one of the world's great engineering feats. Travelling over the high country into Victoria, you reach the Buchan Caves, renowned for their limestone formations. You explore the beauty of the Royal or Fairy Caves before reaching your overnight accommodation at Mountain Lodge. Tonight you will experience a genuine Aussie BBQ dinner, after which you may choose to join your guide on a short walk to view one of Australia's most endearing animals, the wombat, in its native setting.
Day 3: Mountain Lodge to Melbourne via the Penguin Parade and Koala Sanctuary. (B,L)
This morning you wake up to the sounds of the Australian bush. Before breakfast you can take a bush walk along the trail, try your hand at trout fishing in Icy Creek or one of the well stocked dams, or perhaps warm up with a game of tennis. After breakfast, you travel through the Victorian alpine country which includes temperate zone rainforests. Here you will see the Giant Mountain Ash, one of Australia's largest trees.
The landscape changes as you move northeast towards the sea, travelling the gourmet trail through the rich dairy country of south-eastern Australia. You visit a cheese factory where you can taste the prize winning local cheeses, inspect a working dairy and a wood-fired bakery with its irresistible aroma of freshly braked country bread; all this an appetiser to lunch at the Tarago Restaurant or a traditional Australian country pub.
After lunch, you travel to Phillip Island, southwest of Melbourne and visit the Koala Sanctuary where you can see Australia's most lovable animal at close quarters. At dusk, another unique experience is in store when you view the world famous Fairy Penguin parade. Every evening hundreds of these beautiful birds form ranks and march up the beach from the sea to their burrows among the sand dunes. Over dinner on Phillip island there is plenty of time to reflect on your unforgettable experience before being driven to your Melbourne hotel.